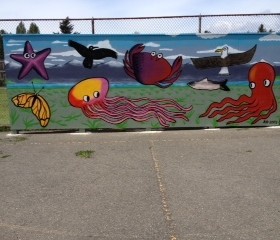 Vic West School is an early years (K-5) school in Victoria, BC. View a map showing our location. Victoria West School is a great school for growing and learning. The school offers many excellent programs with a strong focus on literacy. As well, the school actively promotes and develops good citizenship and student responsibility through its focus on community.
Vic West Elementary Mission Statement
At Victoria West Elementary School we believe all children can learn. We provide opportunities to enable students to become independent life-long learners.
School Goal
At Vic West Elementary, we will continue to create an inclusive and culturally responsive learning environment for all students with an emphasis on the core foundations of learning (Social Emotional, Physical Literacy, Fine Arts, Literacy and Numeracy) as part of our students' journey of self and their role in their community.